As you travel through the elegant handcrafted gates and down the driveway of this custom natural Australian limestone cladded home, the spectacular beauty is an absolute standout, as is the attention to detail and high-end materials.
Located on Hopetoun Road, Park Orchards 23km north-west of Melbourne, this exquisite property is expertly crafted to suit an extended family searching for the ultimate home decked out with every modern convenience paired with a superb and picturesque lifestyle.
The standout is the building's exterior which is meticulously detailed and unique thanks to the naturally spectacular addition of Australian natural limestone cladding from Limestone Australia.
Nestled amongst the trees, the home comes complete with the finest cabinetry, styling and layout, and is a delightful gem complete with a pool, outdoor area, enormous gardens and much more.
Overview
Created for the homeowner with decadent style, this custom home in Park Orchards is a forever residence crafted to the highest standard.
At 83 squares, this double-storey luxury home comes complete with a tennis court, imitation bell tower, double garage space, terracotta roof and an elegant custom cellar complete with LED lighting.
Warm and inviting, the modern home is high spec and comes complete with a luxurious pool house, tennis court, oversized living areas, engineered stone kitchen benchtops, double garage and a delightful imitation bell tower.
No expense has been spared with the external limestone cladding, which adds a glorious finish to this stylish and spectacularly constructed property.
Inclusions
A sprawling home at 83 squares, this double-storey Melbourne home in Park Orchards is crafted with Australia Natural Limestone cladding and the high level of craftsmanship you would expect from a Spring Homes creation.
Adorned with only the best materials and appliances, the property features the finest fixtures and fittings and is in a class all of its own when it comes to custom homes. Oversized, spacious and packed to the brim with the best inclusions money can buy, this home is a stand out for families. The home offers everything from wall to ceiling bookcases to bespoke cellar spaces, pool house, swimming pool, extra high ceilings, luxurious cabinetry and much more.
The Outcome
A truly bespoke and uniquely designed home, this double story sandstone stunner is every inch the ultimate entertainer and boasts every possible inclusion one could imagine in a quality Spring Home property.
Packed with striking custom cabinetry, Australian limestone, and all the features of a immaculately designed and thoughtfully considered luxury property, this Park Orchards abode is one that, once seen, will never be forgotten.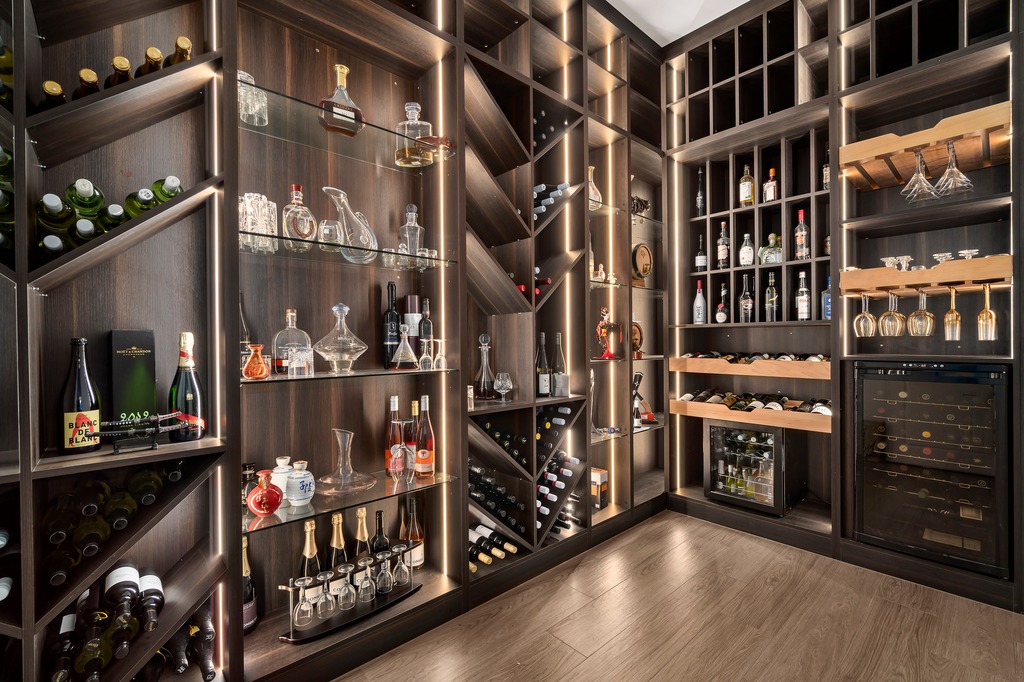 With an inviting layout and a welcoming aspect, this home was crafted to the owner's exact specifications and matches the family's needs and lifestyle to a tee – right down to the bell tower and relaxed pool house outdoor spaces.
Spring Homes Pty Ltd has earned a reputation of being a reliable, honest, reasonable, genuine, experienced and high-quality custom home builder. If you're looking to build in Melbourne's north or eastern suburbs, we'd love to have a chat about your custom home dreams.
Like what you see and interested in a quote for your upcoming acreage property or residential building project in Melbourne? Speak with the Spring Homes team today about your requirements and arrange an obligation-free quote.